The Value of SoTL and Scholarly Teaching for those in Instructional Roles
Many SoTL practitioners, publications, and journals list potential benefits of a proactive approach to classroom scholarship, some of which are articulated in Making a Case for SoTL.  This video also makes a case for institutions to support those who are engaging in SoTL research.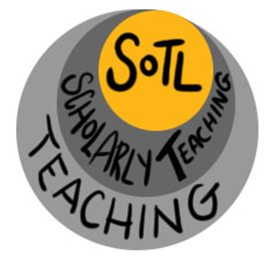 Source: Center for Engaged Learning at Elon University and the International Society for the Scholarship of Teaching and Learning (ISSOTL). This video was produced for ISSOTL Online 2013.
Extend Activity
From the list of potential benefits below, pick the top three statements that would motivate you to become more engaged in SoTL activities. You might also consider other benefits that you can think of that are not on this list.
Improved outcomes and assessment scores.
Useful data for assessments, program reviews, retention strategies, and accreditation processes.
Faculty development opportunities.
Increased reflection on teaching and learning among colleagues.
Increased diversity in voice and perspective in your pedagogy.
Stronger institutional values on teaching and learning.
Promotion of new networks among members at institutions.
Scholarship opportunities in the form of presentations and publications.
Opportunity for outside funding to support program innovation.
Renewed excitement about teaching and learning, and greater self-awareness.
Return to the shared document where you added your Three Keys for SoTL (for Three Keys activity). Edit your entry to include the three top motivations you chose from this list. Review and add comments to the motivations contributed by other participants.
Take a screenshot of your list of motivations to share as an uploaded evidence for your response to the Engage with SoTL activity. Copy your list of motivations as well in your response and include any feedback that you gain from the ones that your colleagues identified. Review and add comments to the motivations contributed by other participants
As evidence of completion, please plan to enter the web address for your response in the Scholar badge submission form.